Event Reports
Published on 7 February 2018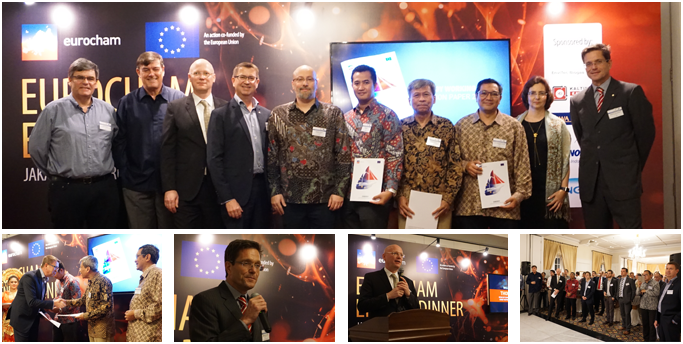 Following the success in organizing the 2016 Eurocham Energy Dinner, the Energy Working Group once again held this periodical event on 7 February 2018 at Hermitage Hotel, Jakarta. With more than 120 participants, the Energy Dinner is an avenue to gather all relevant stakeholders and interested participants to foster a stronger relationship and maintaining the forum to exchange ideas.
The 2018 Energy Dinner was attended by CEOs and top executive of energy companies, relevant government officials and institutions, as well as representatives from the EU Delegation and EU member states diplomats.
The event was opened by Wichard Von Harrach, Eurocham Board Patron for Energy Working Group who is also Deputy Working Group for Power Generation and Renewable Energy. Mr. von Harrach speech was followed by remarks from Mr. Thomas Wagner, Head of Energy Working Group who gave a glimpse of working group activities last year as well as shares the insight on the activities this year.
As the highlight of the event, EuroCham Chairman Ulf Backlund handed over the Energy Position Paper 2018 to representatives of the National Energy Board (Dewan Energi Nasional), Ministry of Energy & Mineral Resources, and BKPM.
EuroCham Energy Position Paper is a token of partnership and a symbol of support towards the improvement of business climate in Indonesia, which consists of key concerns and recommendations of European Companies in Indonesia, particularly within the Energy sector. It provides a glimpse of European business point of view and it is developed as EuroCham contribution to the development of energy sector in Indonesia.
Read More
Published on 30 January 2018

To keep the members updated on recent policy updates and EuroCham advocacy effort, the Pharmaceuticals and Medical Devices Working Group met on Tuesday, 30 January 2018. The meeting was conducted at Novartis office, member of EuroCham and discussed some updates on regulation and issues faced by pharmaceutical and medical devices sector. In this meeting, the participants shared their thoughts on how the regulation may impact the sector as well as shared their inputs on how to advocate the members concerns as a collective voice. From this discussion, the Working Group has decided to take several actions and approach to maintain its advocacy effort in pharmaceutical and medical devices industry sector.
Read More
Entries 305 - 306 of 348