News & Articles
Published on 9 October 2017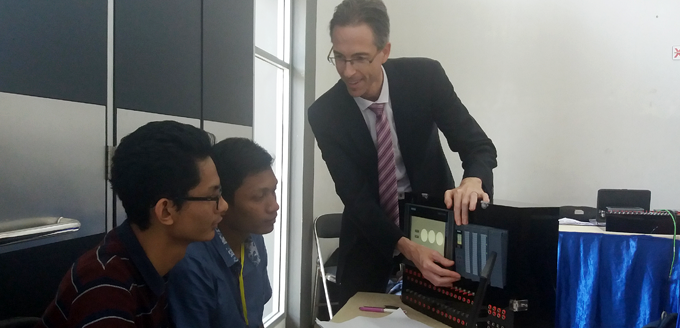 Competitions in the field of Robotics have always been popular among students. However, Siemens in collaboration with top Indonesian campuses would like to take it to the next level in a bid to support and nurture the competitiveness of national industry. The Mechatronic Technology Center with Mechatronic and Industrial Automation-Research Center (MIA-RC) as a center of excellence of Institut Teknologi Sepuluh Nopember (ITS) Surabaya with support from PT Siemens Indonesia, will host the Siemens SciTech Competition 2017 from October 9-11, 2017.
The Siemens SciTech Competition is an exclusive national competition held in every two years. The first event in 2015 managed to attract participants of up to 99 teams from 22 universities and 8 senior and technical schools across Indonesia.
This year's competition is also part of the Industrial Mechatronic and Automation Expo 2017 (IMAE 2017); serving as a forum for students from senior high school and universities to explore their skills on industrial automation. The competition has evolved into a benchmark for all students, who wish to advance their knowledge or pursue careers in industrial automation.
"It is imperative to equip the students with necessary knowledge in this field. Mastering industrial automation will be the key in driving the competitiveness of our national industry, in anticipating the global trend and seizing the opportunity from the fourth industrial revolution," said Pascal Dricot, Head of Factory Automation of PT Siemens Indonesia.
Industrial Automation is an extremely fast moving area, so students need to gain strong underpinning knowledge, expertise and a wide range of skills through training and regular participation in quality competitions. The Siemens SciTech Competition consists of four groups: Programmable Logic Controller (PLC), Human Machine Interface (HMI), Distributed Control Systems (DCS) or SCADA systems and Mathematic and Sciences.
PLC SIMATIC S7, as well as TIA Portal Version 14 along with a complete range of digitalized automation service devices will be showcased at the event, representing the most innovative design control systems that provide high performance and improvement in efficiency within the industrial process. Students will be given the chance to explore and understand the improvements these devices provide, from digital planning and integrated engineering to transparent operation.
"Through this competition, we want to attract more young talents who will play crucial role in advancing Indonesian industries to enter the era of Industry 4.0. They will be the ones who build our smart factories, smart buildings, smart grids and eventually realize the concept of smart mobility. Therefore, ITS with MIA-RC will give a real contribution to enrich tomorrow's generation competencies. In the future, we hope ITS could become the center of mechatronics and industrial automation technology development since robotics center building was established" said Prof. Ir. Joni Hermana, M.Sc.ES. Ph.D , Rector of ITS.
In parallel, PT Siemens Indonesia is also providing another opportunity for students to gain insight into the latest technology in industrial automation through the Siemens Digitalization Day where we present digitalization solutions in energy, manufacturing, and transportation on October 10, 2017.
Read More
Published on 28 September 2017

At the 72nd National Electricity Day Conference and Exhibition that takes place on September 28-30, 2017 at the Jakarta Convention Center, "We are showcasing our solutions to support the digital transformation of the energy sector in Indonesia," stated Bernaud Stuckart, Head of the Power and Gas Division of PT Siemens Indonesia. Siemens' strategic goal is to help the energy sector in Indonesia to overcome challenges with technology and solutions along the entire energy conversion chain that increase efficiency and reduce costs – from the utilization of fossil resources for power generation and transportation to improvements in consumption as well as localization.
To help ensure an efficient and reliable power supply, the SGT-400 – a modularized gas turbine can generate 12 megawatt electricity with the opportunity to convert it into combined cycle. It is very easy to install and suitable for Indonesia's industrial sector, oil & gas sector, as well as to be installed in remote areas. The SGT-400 Gas Turbine package can be locally manufactured with 75% local content without the core engines. In the field of power generation services, My Advisor can help optimize rotating equipments such as turbines and compressors by identifying potential improvements like power increase and emissions reduction to reduced operating cost through greater efficiency.
A reliable power supply is a key factor in a country's economic stability. Siemens adds a new dimension in power grid reliability and efficiency by showcasing the Process Bus based on SIPROTEC for the digital substations technology. From conventional protection technology to the process bus that offers many advantages for protection technology. With over 100 years of experience, the Siemens protection relay and control technology offers a reliable, proven, dependable and durable technology for all areas.
Siemens have been present in Indonesia since more than 160 years ago. Our technologies help to support Indonesia's infrastructure in energy, manufacturing, transportation, as well as healthcare. Over the past 20 years, Siemens invested more than EUR 200 million in Indonesia. More than 11% of the country's power is generated with Siemens technologies. We invest significantly in high quality training and education to increase value-add of our facilities in Indonesia for the production of power plant components and medium-voltage switchgears, protection & control panels. Today, these factories have excellent quality standard to produce reliable products at a competitive price. Not only these factories are doing export worldwide, they also provide an excellent foundation to support local content of the government's fast track projects.
This press release and a press picture / press pictures/ further material is available at www.siemens.co.id/press
Read More
Entries 287 - 288 of 299