Event Reports
Published on 14 February 2018

The CSR and Sustainable Member Forum held its first meeting in 2018 on Wednesday, 14 February at EuroCham office. Titled "Investing in Social Impact: The Role of Government and Private Sector", the meeting attended by stakeholders that were relevant in regards to corporate social responsibility.
The Member Forum invited official from the Ministry of Social Affairs, represented by Mrs. Latifah Ningrum (Deputy Director of Business Potential, Kemensos) and Mr. Samuel Tobing (Head of Local Coverage, BNP Paribas)
During the discussion, Mr. Samuel Tobing addressed the Sustainable Finance and Investment, followed by Mrs. Latifah Ningrum who presented government perspective on social impact investment. Mrs. Latifah further encouraged business to support the government in addressing main social issues that still happen in Indonesia.
During the presentation session, Mr. James Kallman, Head of EuroCham CSR and Sustainable Development Member Forum also presented on his experience in social impact investment project.
The meeting also gave opportunity to participants to discuss, asked questions, and also commenting on the speakers' presentation. Last agenda of the meeting was discussion on member forum activities plan in 2018 which include 3 meetings and 1 seminar.
Read More
Published on 8 February 2018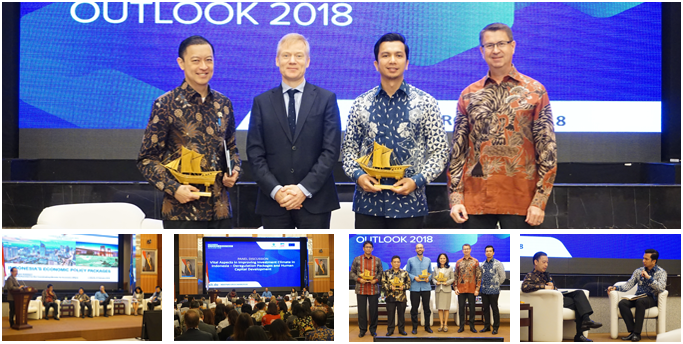 Maintaining last year's successful dialogue event, EuroCham together with BKPM conducted the 2018 Indonesia Economic and Investment Outlook. Organized on Wednesday, 8 February 2018, at Nusantara Room, BKPM, the event was opened by EuroCham Chairman Mr. Ulf Backlund. It was followed by remarks from H.E. Vincent Guerend, Head of the EU Delegation in Jakarta. Keynote speech was given by Mrs. Farah Ratnadewi Indriani, Deputy Chairman of Investment Climate Development of BKPM.
In line with the panel discussion titled "Vital Aspects in Improving Investment Climate in Indonesia – Deregulation Packages and Human Capital Development", Mr. Ulf Backlund addressed how the EU-Indonesia free trade negotiation (CEPA) could support the human capital development. The Ambassador also addressed the EU-Indonesia CEPA in his remarks and the positive progress of its negotiation. Complimenting Mr. Ambassador's remarks, Mrs. Farah Ratnadewi further revealed that the EU is fourth largest source of Foreign Investment in Indonesia.
The event resumed with panel session that brought top policymakers and experts in their respective sectors. Moderated by Mr. Timothy Marbun (KOMPAS TV Executive Producer), the session began with presentation by Mr. Leonard VH Tampubolon (Deputy Bappenas Minister for Economic Affairs), followed by Mr. Edy Putra Irawady (Special Staff to the Coordinating Minister for Economic Affairs). Other distinguished panelists were including Mr. Massimilano Cali (Senior Economist World Bank), and Ms. Ratna Dewi Antarina SF Amir (Board of Directors of Indonesia Services Dialogue).
As main highlight of the event, Mr. Thomas Lembong later joined the discussion in the dialogue session with the moderator. Mr. Lembong spoke about his optimism in 2018 and addressed some current issues, such as E-Commerce boom, bilateral investment treaty including the on-going IEU-CEPA, and also his focus on human capital development through improvement of institutions standards. He further addressed the quality of European investment which also comes with high technology, as well as commitment on workers training.
Read More
Entries 303 - 304 of 348