Event Reports
Published on 28 February 2018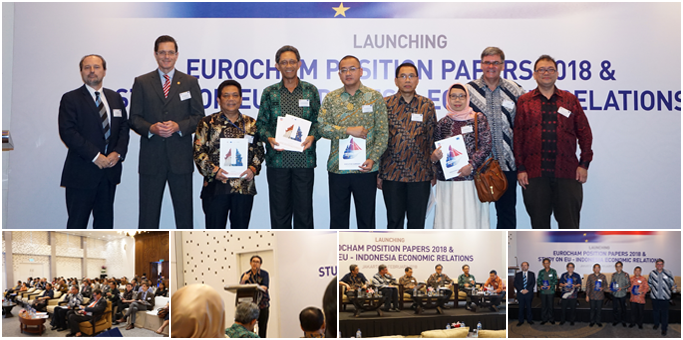 EuroCham recenty launched its two major publications, the 2018 Position Paper and the EU-Indonesia Economic Relation Study. Both papers were officially handed over to high government representatives including:
Mr. Leonard Tampubolon (Deputy Minister of Bappenas),
Mr. Cahyo Rahadian Muzhar (Director General of Legal Administration, Ministry of Law and Human Rights),
Mr. I Gusti Putu Suryawirawan (Director General of Resilience and Development of International Industrial Access, Ministry of Industry),
Mr. Ikmal Lukman (Director of Sectors Investment Promotion, BKPM), and
Ms. Sukma Ningrum (Assistant Deputy Minister for Export Improvement and International Trade Facilitation, Coordinating Ministry for Economic Affairs).
The 2018 Position Paper contains main concerns and recommendations from European businesses operating in Indonesia, in regards to government regulations and policies. These recommendations are generated from experience of EuroCham members in the current context and also on-going topics in the Indonesian regulatory landscape. In that sense, EuroCham members are hoping that these recommendations can be considered by the government to improve the business and investment climate in Indonesia.
Meanwhile, the Economic Relation Study highlights the exchange of goods and services between the EU and Indonesia, as well as the amount of investment from the EU in Indonesia. It further illustrated the extent of relationship between the EU and Indonesia, which was shown by the USD 4 billion trade surplus experienced by Indonesia in 2016. The study also identified the opportunities and rooms for improvement
In the panel discussion during the pre-launch brief, Mr. Berly Martawardaya, INDEF Program Director & Team Leader of the study, explained the research team finding on bidirectional causality relation between Indonesian import from EU and EU FDI. Additional 1 % increase of import from EU caused FDI to increase 2.43 % in the following years, while additional USD 1 billion of FDI would increase the import by USD 2.14 billion in the following year.
This FDI-Import relation means that import, especially capital and intermediate goods, is necessary in order to boost investment, which in turn will grow the national economy.
Read More
Published on 27 February 2018
On Tuesday, 27 February 2018, EuroCham, in collaboration with Vriens & Partners, Dutch Bizz Breakfast (DBB), and the Embassy of the Kingdom of Netherlands, held a breakfast briefing entitled 2018 ASEAN Overview. Present at the event to give the opening speech was Mr. Samuel Siahaan, the Executive Director of EuroCham Indonesia.
The briefing offered insightful presentations and discussions regarding the relationship between the EU and ASEAN, particularly Indonesia's standing compared to neighbouring ASEAN countries. EuroCham would like to thank distinguished speakers, Mr. Theodoor Bakker, the Vice Chairman of EU-ASEAN Business Council and Executive Board member of EuroCham Indonesia, Mrs. Nora Guitet, the Public Affairs and Communication Director for Indonesia & Malaysia Regions of PT Michelin Indonesia, and Mr. Hans Vriens, the Managing Partner of Vriens & Partners, for sharing their professional views and experiences. In addition, the participants of the event, consisting of EuroCham members and other relevant stakeholders, were also involved in a fruitful dialogue about the subject matter.
Read More
Entries 309 - 310 of 361