News & Articles
Published on 23 May 2018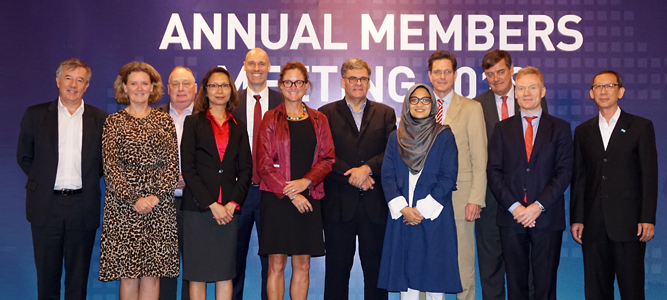 As part of its Annual Members Meeting (AMM), EuroCham organized an election for the position of Chairman, Vice Chairman, Treasurer and Executive Board Members. The election comprised of four phases, for each mentioned position. In the first phase, Mr. Mark Magee won the election of Chairman. During the second phase, Ms. Corine Tap won the Vice Chairman Election. Afterwards, Mr. Prawira Atmadja was appointed Treasurer of EuroCham Indonesia.
The last phase was the election of the Executive Board Members. There were six seats available and this year's election proved to be more competitive than previous years. There were 19 board candidates participated in this year Annual Members Meeting for 9 positions as elected board members.
Congratulations to EuroCham Elected Executive Board:
Chairman: Mr. Mark Magee
Vice Chairwoman: Ms. Corine Tap
Treasurer: Mr. Prawira Atmadja
EuroCham Board Members:
Mr. Wichard von Harrach
Ms. Astri Wahyuni
Mr. Theodoor Bakker
Mr. Luc Cardyn
Mr. Michael Herrmann
Ms. Nora Guitet
Thank you for EuroCham members who had participated in the 2018 AMM
Read More
Published on 17 May 2018
On 17 May 2018, EuroCham attended an invitation by the Executive Office of the President to discuss joint inputs submitted on Minister of Finance Regulation No. 158/2017 on Inward and Outward Cargo Manifest Regulation with ALFI, KoCham, JJC, US-ABC, AmCham, and IBC. During the meeting, the Executive Office of the President are represented by Mr. Bimo Wijayanto (Senior Advisor – Department of Analysis and Oversight of Strategic Issues on Social, Cultural, and Ecological Affairs) and Mr. Agung Krisdiyanto (former Head of Intelligence Section III, DG Customs). In addition to the Cargo Manifest Regulation, both EuroCham and ALFI briefly raised issues surrounding the implementation of the Minister of Finance Regulation No. 229/PMK.04/2017 on Import Duty under FTAs.
Read More
Entries 237 - 238 of 299