News & Articles
Published on 25 May 2018

On 25 May 2018, EuroCham participated in a public dialogue event on Online Single Submission (OSS), which is an online business licenses service. In his welcoming remarks, Mr. Thomas Trikasih Lembong, the Chairman of the Indonesia Investment Coordinating Board highlighted the vision of president for reform efforts and simplification of licensing process. To provide the background of the OSS, Mr. Darmin Nasution, the Coordinating Minister for Economic Affairs presented the main features of the system which cover business licenses in a national level and not only covering the government but also the regional governments. The OSS will soon be formally launched at the latest by end of May as a part of implementation of the Policy for Acceleration of Business Implementation as mandated by President Regulation No. 91/2017.
Read More
Published on 23 May 2018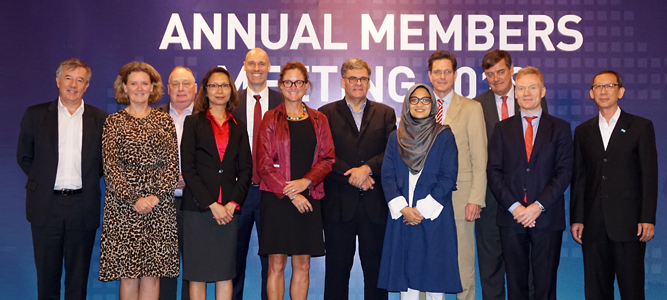 As part of its Annual Members Meeting (AMM), EuroCham organized an election for the position of Chairman, Vice Chairman, Treasurer and Executive Board Members. The election comprised of four phases, for each mentioned position. In the first phase, Mr. Mark Magee won the election of Chairman. During the second phase, Ms. Corine Tap won the Vice Chairman Election. Afterwards, Mr. Prawira Atmadja was appointed Treasurer of EuroCham Indonesia.
The last phase was the election of the Executive Board Members. There were six seats available and this year's election proved to be more competitive than previous years. There were 19 board candidates participated in this year Annual Members Meeting for 9 positions as elected board members.
Congratulations to EuroCham Elected Executive Board:
Chairman: Mr. Mark Magee
Vice Chairwoman: Ms. Corine Tap
Treasurer: Mr. Prawira Atmadja
EuroCham Board Members:
Mr. Wichard von Harrach
Ms. Astri Wahyuni
Mr. Theodoor Bakker
Mr. Luc Cardyn
Mr. Michael Herrmann
Ms. Nora Guitet
Thank you for EuroCham members who had participated in the 2018 AMM
Read More
Entries 241 - 242 of 304